We can be your new family members!
Shiba dog puppies born to our kennels have increased, so that we are now ready to hand over our Shiba dogs for a fee to you who welcome them as a new family member and take a good care of them! Would you come to see the puppies born to our kennels?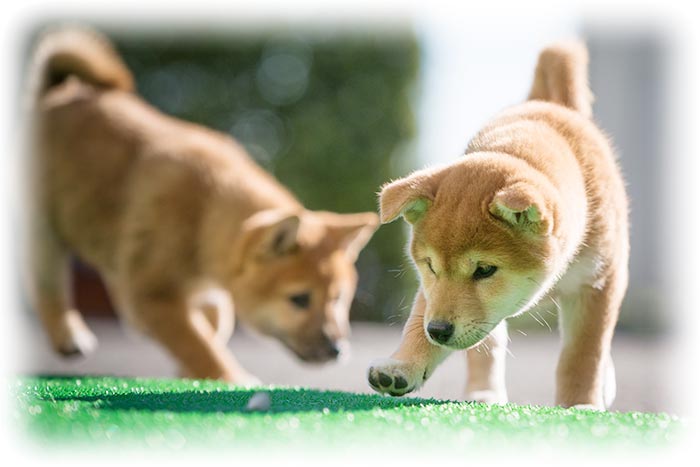 Sales of puppies
We would like to sell our puppies to customers who are responsible for continuous care of the puppies, including their registration to the municipality, vaccinations, monthly administration of medicines for filariasis and flea and tick expellant (NexGard, Spectra, etc.) and annual combined vaccination.
Handover of our puppies
Combined vaccination is given to dogs several times. The first vaccination (60 days after birth) is carried out in our kennels and a microtip is embedded and registered at that time. Legally, it is possible to hand puppies over to a new owner 56 days after vaccination, however, we hand them over after one to two weeks have passed from the first vaccination when no side effects or physical problems found are confirmed. The first vaccination may become ineffective by immunity passed down from the mother, so that it is safer to conduct the second vaccination just in case.
For those who will visit our kennels
Selling our puppies overseas
We are selling our dogs to customers not only in Japan but also overseas. In such a case, customers have to go through procedures needed for importing and feeding of dogs themselves. However, we will provide as much help as possible for vaccination, various examinations, etc.
Please be noticed that there are some restrictions on bringing a dog into some regions.
In addition, when transportation of a dog is judged difficult from a view point of the health of the dog, such as a long transportation time, we may decline the request. Please feel free to ask us for details.
★Currently, it is difficult to transport puppies overseas due to COVID-19 pandemic.
Please ask us for checking if there is a possible transportation method or not.
※Vaccination
○ In our kennels, combined vaccination against 10 diseases (dog distemper, infectious hepatitis, and type II adenovirus, parainfluenza, parvovirus, coronavirus and leptospira infections (Canicola, Icterohaemorrhagiae, Grippotyphosa, Pomona))is used.
○ For the second and third vaccinations, new owners have to go to a veterinarian clinic nearby with their dog. But if you are concerned about the health condition and care of your dog, we can take care of your dog including the health management in our kennel until the completion of the third vaccination. Regarding an additional vaccination will be charged.
Please see here for the latest information on newly born dogs
How to purchase the ownership of a dog
If you want to purchase the ownership of a dog, please fill in the application form bellow for requested date and time of your visit.
We will inform you of the available date and time for kennel tour accordingly via e-mail.
You will visit our kennels to see dogs at the designated time on the designated day. In addition, you can see the parents or grandparents of a dog in some cases to understand the nature and future growth of the dog. If you find a dog you love, please consider having him/her.
When you decide to purchase the ownership, you are supposed to pay for the charge.
After the day to hand over the dog is determined, you will visit our kennel to take him/her to your home. If it is difficult for you to come to us, we can take care of the dog for some time until you come to have your dog. If you want this service, please consult us.
☆☆ Providing advice and health consultation for raising dogs after hand over is available.
Notes
★ Regarding the kennel tour and purchase, the rule is first come, first served. ★ The target of trading this time are ordinary people but not breeders or those we consider inappropriate to give our dogs. ★ Please be noted that if the applications for kennel tour are too many, not all the applications will be accepted.